Who is Tennille? No, not the bih from Captain and Tennille, I'm talking about Bronx native singer/rapper 10ille. You might have heard her harmonizing on some of The Cool Kids/ Sir Michael Rock tracks.
10ille is for all my girls that just like to chill, smoke one or six, and that isn't about that basic bullshit we're so used to seeing. A lot of girls, nowadays, like to quote female artists and they all make themselves look basic, it's sick. The quotes are tacky ass shit. You get what I'm saying. But 10ille is different, like a breath of fresh air. Totally not basic and speaks about everyday REAL shit.
Her voice can go from soft and lovely and then out of nowhere go to hard body rap. Even though most of her jams are for the ladies, the fellas can rock out too. If I were a dude, I would want to wife 10ille or wife a bih like 10ille.
I was first introduced to 10ille by my awesome Godsister, Maria (
http://mmm-mars.me/
) She posted a video link on my Facebook adding a comment saying, "I thought you would like this."
My Godsister definitely knows me.
I rarely fuck with female hip-hop artists. But 10ille came from the sky with her unique style and sound.
After playing "Yellow Haze" 50 times back to back. I was put on to 10ille's A Bronx Tale, that was released in September 2010.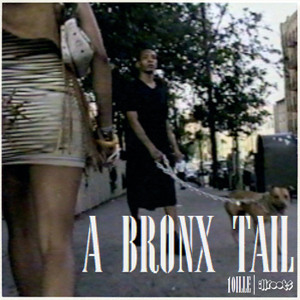 A mix tape inspired from the classic movie, A Bronx Tale. The mix tape is made up of 10 songs, including three skits from the movie. Like the movie itself, this mix tape is on it's romantic tip. It's totally chill to jam to while smoking a joint with your beloved one lying nakie in the bed.
10ille's voice is perfect for meditation.
After fucking with A Bronx Tale, 10ille's romantic and chill mode switched to a different kind of hype with her December 2010 mix tape, 10illematic/10FDOOM. I fell in love with 10ille even more.
First of all, she just dropped A Bronx Tale in September and then two months later she drops another banging mix tape. 10ille is on her grind!
The under rated artist took five beats from Nas and five beats from M F Doom and created 10illematic/10FDOOM. This tape gives me a 'chill on the porch' vibe. Straight bumping.
10ille is NOT commercial. It is legitimately bumpable. I am not fronting.
My favorite mix tape is, The Bronx Zoo, dropped in October 201l. I had this tape playing for months before I moved on to some new shit. The Bronx Zoo is my favorite because it talks about boys, getting high, mood swings, and it all sounds normal, unlike a hot ass venting/thirst mess, you know?
My favorite songs are A Million Buck$ and Jambalaya, make sure to peep those two tracks.
10ille's most recent mix tape consists of five tracks that make up Candy Jams. I just started jamming to this tape, this week. It just came out this month relating to Valentines Day.
Writing this blog made me realize that all of 10ille's project has a main focus. All of her songs tell a story that connect with each other. If her mix tapes were essays, I'd pass her.
Peep this, TRUE STORY. I e-mailed 10ille asking her if I can interview her. After not writing me back I took shit to the next level and tweeted mentioning her saying "10ille needs to stop tripping and write back to my e-mail." 10ille responded:
I didn't know whether to be mad or hype. I was hype. After going back and forth with my new favorite female artist, she still didn't respond to my e-mail, nor follow me back, LOL. But her response still got me hype knowing that she acknowledged my tweet.
I hope that I have convinced you enough to hop on the 10ille hype because she deserves for her fan base to increase everyday.
Thank you <3